As we stated on our home page, we published a audio/magazine called Sequences for nearly twenty years and in the beginning of 2012, podcasting on iTunes, later on Mixcloud and Soundcloud.  We publish two editions each month, approx 3 hours per episode.
I have been into Electronic music for over 50 years now, from the early experimental sounds of Karl Heinz Stockhausen, John Gage, Berio, Phillip Glass etc, the German scene in the 70's with Tangerine Dream , Klaus Schulze, Robert Schroeder, Kraftwerk, Can etc. through to some of the more modern, trance, chill-out, ambient music, although we stay away from techno, dance and the more pop orientated stuff.
We are always on the lookout to find new and interesting musicians to preview on our shows, with listeners all round the globe.   If you are a musician or label interested in having some of your music featured on our podcasts and to a global audience, do get in touch.
Many thanks for your time.
Mick (theED) & the Team (Mike, Andy & our virtual girl Karen)
https://itunes.apple.com/au/podcast/sequences-magazine-podcast/id500441651
https://www.facebook.com/groups/sequencesmagazine/
http://www.mixcloud.com/mickgarlick9/
https://soundcloud.com/mick-garlick
Recent editions featured on the German radio show:  Modul303   http://modul303.com/
Player FM: Start listening to Sequences Electronic Music Podcast on your phone today with Player FM's free Android app, (coming soon to iPhone). You can sync with your account with this website too: https://player.fm/series/sequences-magazine
Latest issues on Podomatic: https://www.podomatic.com/podcasts/sequencesemma/episodes/2017-03-25T21_35_17-07_00
(Click images to download bio pages) 
---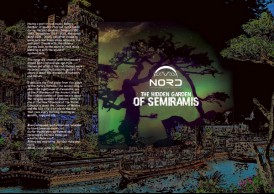 Podcast 113 - 08/08/17

Sequences Podcast No113
02.23 Nord 'The Lighthouse' (album The Hidden Garden Of Semiramis) http://www.nordmusic.ro
11.43 Quaeschning & Schnauss 'Thirst' (album Synthwaves) https://quaeschningschnauss.bandcamp.com
19.44 Andy Pickford Orgonon pt4' (album Orgonon) ***http://www.andypickfordmusic.com
33.24 Andy Pickford 'Orgonon pt11' ***
44.30 Cosmic Ground 'Anomaly' (album Live) *** https://cosmicground.bandcamp.com/album/cosmic-ground-live
55.26 Cosmic Ground 'Unground' ***
64.14 Thomas Lemmer 'Ambitronic A1' (album Ambitronic) https://sine-music.bandcamp.com/album/ambitronic
69.00 Thomas Lemmer 'Ambitronic AV11'
74.00 Thomas Lemmer 'Ambitronic A1X'
76.56 Gerd Weyhing 'Le Château au Fin du Couloir' (album Live In Koblenz 03/09/2016) *** http://schrottland.de/?lang=en
85.41 Gerd Weyhing 'Icyclokinesis'***
92.52 Jim Ottaway 'Astral Voices' (album Deep Space Blue) www.jimottaway.com
98.27 Jim Ottaway 'Stars Of Ice'
105.49 Chronotrope Project 'Mariposa' (album Ovum) www.spottedpeccary.com
113.24 Altocirrus 'Weeks Go By' (album Fifty Seven) ***www.altocirrus.bandcamp.com
122.20 Altocirrus 'Firefly' ***
128.15 SpiralDreams 'False Hope' (album Movements) www.spiraldreams.bandcamp.com
139.29 SpiralDreams 'Meteor' (album Movements 11)
149.37 Sasa Tosic 'Circles Of Time' (album Circles Of Time) www.erbemusic.com
154.30 Sasa Tosic 'Tenthousand Planets '
160.56 Sasa Tosic 'When This Moment Became True'
162.45 The Fourth Dimension Project 'Ambient Waves' (album Cosmic Waves) *** http://www.thefourthdimensionproject.com
171.46 The Fourth Dimension Project 'Interstellar'
177.18 Electric Orange 'Live' (album Live Mischwesen • Cairo, Würzburg) *** http://www.electric-orange.com
189.13 Ian Boddy 'Cantata' (album Spectroscopic) www https://dinrecords.bandcamp.com/album/spectroscopic-dinddl18
193.48 Ian Boddy 'Karina'
200.44 Ian Boddy 'Laja'
204.16 Shall_Remain_Nameless 'Uneven Terrain' (album Shall_Remain_Nameless) https://shallremainnameless.bandcamp.com/
207.59 Shall_Remain_Nameless 'Coney Island Side Show'
212.27 Shall_Remain_Nameless 'Life In Any Form'
215.33 Falling You 'Shine' :featuring Dru Allen. (album Shine) www.projekt.com
221.08 Falling You 'Let It Go' :featuring Monica Richards.
226.27 Clara Mondshine Caesar In Camerum' (album Memorymetropolis)
Edit***